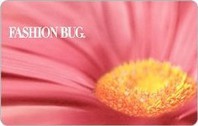 Women who want to look great but spend less turn their eyes on Fashion Bug. Fashion Bug offers modern styles for office, weekend and everything you want sold at affordable prices. Fashion Bug features the latest styles to satisfy the needs of today's busy woman. Visit any of Fashion Bug stores at almost 900 locations nationwide
4.0
Average customer rating
I ordered my cards and they came in just a few days. Everything was great. I'm going to order more in the future to save more money.
- Eric
Free USPS Shipping
No Fees
No Expirations
eGifts

will arrive by email in approximately 1 business day.
Physical

cards arrive in 3-7 days via USPS mail.
Send an email
when brand is in-stock, or on sale.
This brand is in your
favorites list.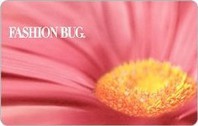 Fashion Bug Gift Cards
Women who want to look great but spend less turn their eyes on Fashion Bug. Fashion Bug offers modern styles for office, weekend and everything you want sold at affordable prices. Fashion Bug features the latest styles to satisfy the needs of today's busy woman. Visit any of Fashion Bug stores at almost 900 locations nationwide